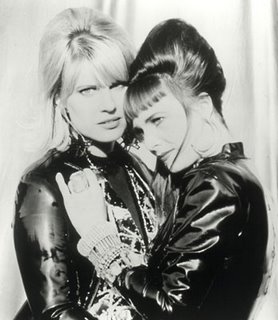 WOO!!! I have been a fan of Voice of the Beehive for YEARS!!! In fact probably my love of the internet started around the same time because I remember looking for sites about them in the early years of my web obssesion. haha
The first song I knew about them was I Think I Love You because it was quite popular in Australia when it came out, but obsession began because my brother had a friend who was a big fan and the bro had borrowed their first two albums on cd and would play them all the time and I FELL IN LOVE!!!
Ebay has been my friend and enabled me to buy their albums on cd. THANKS EBAY! (Though I did have a copy of Honey Lingers I bought in a record store…on cassette…oh the olden days!)
So yeah – I always have at least one or two songs by them on whatever playlist I am listening to on my iTunes.
Anyways – so the girls were recently featured in the second half of a radio show called Revenge of the 80s.
Anyways just having a listen (if you go to the post the second hour has the interview and thats all I am listening to) – the first song they play is like ONE OF MY FAVES – OHMYGOD!!!
Okay – songs played for newbs:
I Say Nothing – A FAVE OF MINE!
I Walk the Earth – ANOTHER FAVE!!!
Monsters and Angels – used to be a FAVE but I think i suffer from over playage!
I Think I Love You – its a cover, but its a fun cover!
Anyways – heres a not so great quality Youtube vid of I Say Nothing:
Werent they adorable????????
Anyway, it says in the interview that you can now get their stuff from the iTunes Music Store so I will list my top 5 songs (AT THE MOMENT – this always changes) here in case you wanna have a listen. I should just list my top 5 LEAST favourite actually because i love MOST of their songs…the least faves is a VERY short list.
My Top 5 fave Voice of the Beehive songs – Mar 31 2008
1) I'm Shooting Cupid (Honey Lingers)
2) Heavenly (Sex & Misery)
3) I Walk the Earth (Let it Bee)
4) I Say Nothing (Let It Bee)
5) Scary Kisses (Sex & Misery)